How much we need a PC temperature monitoring tool?
Overheating may seem harmless at first, but in the long run it can lead to undesirable consequences. The hard drive and motherboard are integral parts of the CPU and play a decisive role in uninterrupted system operation. Any damage to them can harm the general operation.
Thus, monitoring the CPU and GPU temperature, which can help us know about the health of our system, is essential.
Here are the best tools for CPU and GPU temperature monitoring:
1. Core Temp
2. HW Monitor
3. Real Temp
4. SpeedFan
5. Speccy
6. Open Hardware Monitor
7. SIW
8. AIDA64 Extreme
9. CPUThermometer
10. GPUTemp

1.Core Temp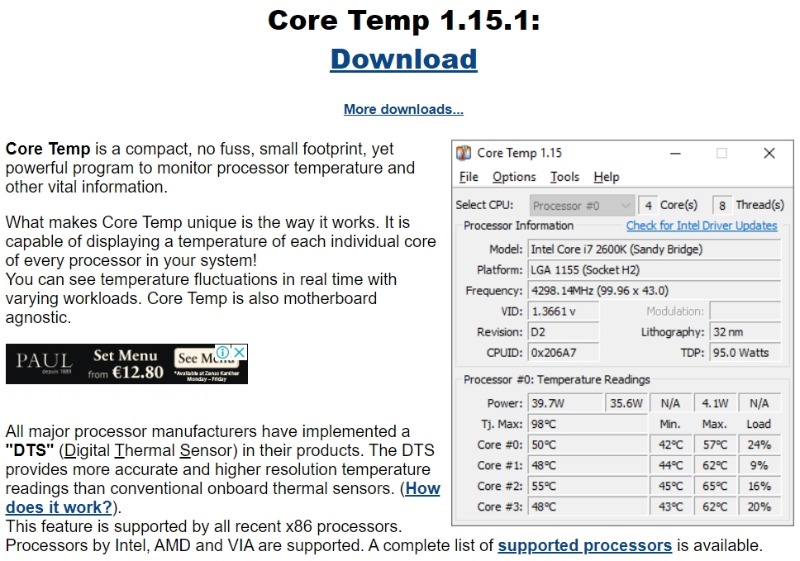 Core temp is a convenient and lightweight program for CPU and GPU temperature control and monitoring. It is compatible with almost all types of processors and displays separate timing data for each core. With this incredible tool, you can easily track and manage the load on your device.
Some characteristics of Core Temp
Fully compatible with various major processors including AMD and Intel;
Uses digital thermal sensors to collect system reports;
In case of overheating, a notification will be sent.

2. HW Monitor



If you are looking for a program to control and monitor CPU and GPU temperature, HW Monitor might be a good option for you.
Developed by CPUID, monitors and displays important system statistics including PC temperature, voltage, load, fan speed, and more.
It uses a simple mechanism to display important details; details are available in a single window, divided into different sections and layouts.
The reason it ranks among the best programs for monitoring CPU temperature is because of its efficient mechanism and performance, and also because it is completely free.

3. Real Temp




If you want to make it easier to see the system temperature, including each core, Real Temp may be for you. The only downside to this awesome tool is that it supports only Intel Core processors and is not compatible with Pentium 4 and Intel processors. If you are using an Intel processor from Windows 2000 to Windows 10 version, you can easily use Real Team. It also works well on 32- and 64-bit processors.
It offers a simple mechanism to track your system and logs important data such as minimum and maximum temperatures, overheat alarms, test sensors and a shutdown function.

4. SpeedFan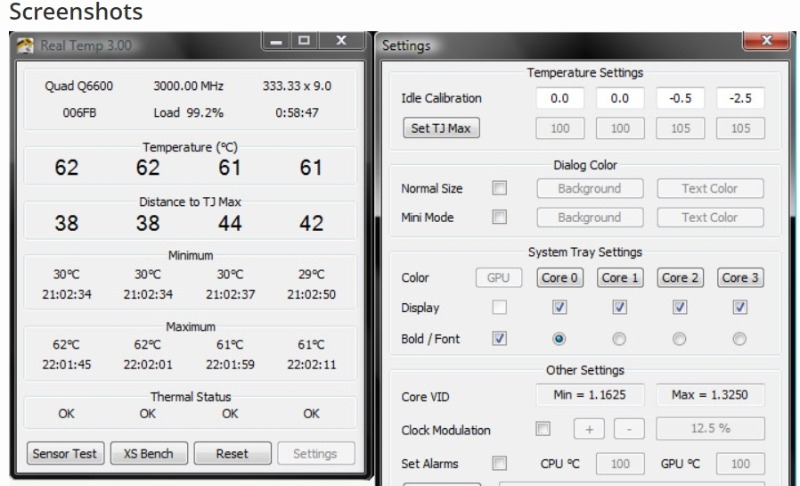 With its incredible performance, it can not only monitor the CPU and GPU temperature, but also check if other parts are working well. If you're a beginner, this is the best tool for you and doesn't require any system hardware expert knowledge.
It can monitor your computer's temperature, monitor its fan speed, monitor voltage, and monitor system load. You can also set up an alert if your system temperature exceeds a preset level.

5. Speccy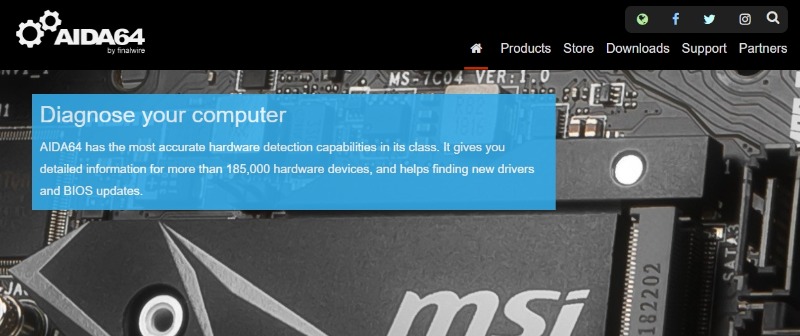 This powerful tool is developed to check the temperature of your CPU and GPU. It comes in free and paid versions and is fully compatible with 32- and 64-bit processors.
If you choose the free version, you can see a general overview of your system. However, if you opt for the premium version, you can enjoy one-stop access to the general health of your computer, which provides real-time readings of the temperatures of various components, and based on that, you can decide on corrective actions.

6. Open Hardware Monitor



Open Hardware Monitor is a simple program to check CPU and GPU temperature, voltage, fan speed, load, clock speed, etc.
It works well on 32-64-bit processors and is fully compatible with Windows XP - Windows 10 versions. It also works quite smoothly on Intel and AMD processors.
There is no need to install this computer temperature control tool. You can use it by downloading the zip files, unpacking various data and running the program's rights.

7. SIW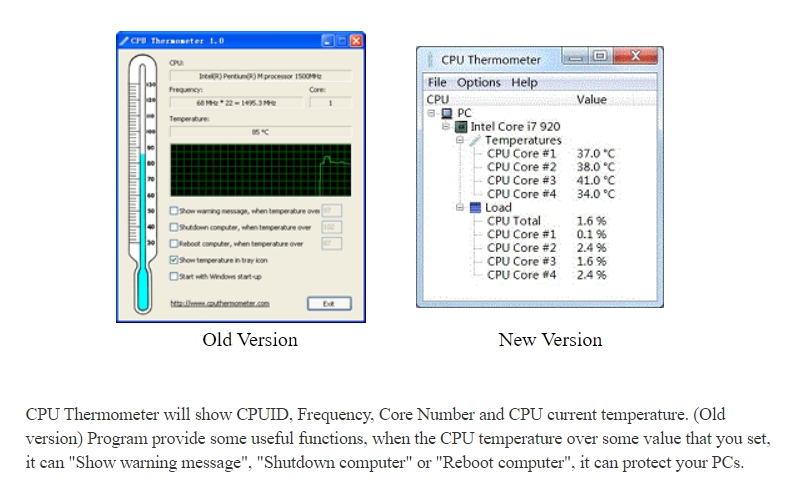 Use this multifunctional program to keep an eye on your storage devices, virtual machines, sound devices, as well as other important parts of your computer, and keep track of the overall temperature of your processor.
It provides a detailed report that contains all the information you need to keep your PC running smoothly.

8. AIDA64 Extreme



AIDA64 is best for experienced users who spend hours working with their system and need an advanced diagnostic tool to monitor CPU and GPU temperatures.
You can use the free 30-day trial or opt for the paid version to take advantage of the wide range of monitoring features.
9. CPU Thermometer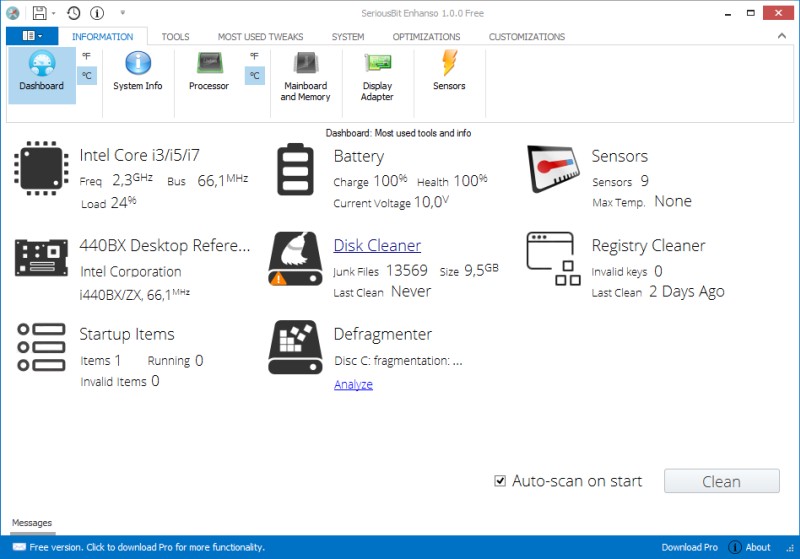 The CPU Thermometer is fully compatible with Intel and AMD processors, as well as various versions of Windows, including Windows 10.
You can set a maximum temperature for your computer, and if your system exceeds this limit, you will receive a warning notification and an automatic shutdown.
10. GPU Temp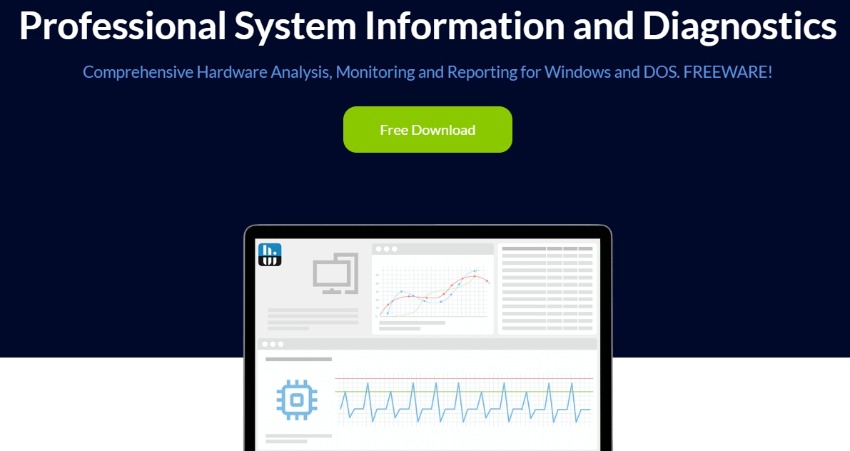 With its simple yet powerful functionality, GPU Temp certainly deserves a spot on the list of the best CPU and GPU temperature monitoring software. It can easily track your CPU temperature and voltage and is very useful for gamers.
So, these are the best and most useful CPU temperature monitoring software available for use. If you want to keep your computer system running smoothly and regularly monitor its temperature, pick one for yourself today.